Welcome, to my short and quick tutorial on how to Dual Boot Kali Linux + Windows 7 on one single machine, of course without using a VM.
What you will need:
Kali Linux – Kali.org
ImgBurn – ImgBurn.com
ATLEAST 8.5GB DVD+R DL ( OR ) a 8GB+ USB Device
Knowledge of shrinking partitions (Using Disk Management tool)
Table of contents:
Step 1: Download Kali
Step 2: Download and install ImgBurn software
Step 3: Burn ISO File
Step 4: Shrink Windows Partition
Step 5: Set BIOS to boot DVD/USB Device
Step 6: Install
Step 7: Enjoy
Steps:
Step 1: Download Kali Linux (Your preferred flavor) This will of course vary on your current system specifications, and also what kind of system specifications you want yourKali Linux to possess.
Download your Kali Linux flavor at http://Kali.org
Step 2: Your next step is to burn this ISO file to a DVD (Dual Layer DVD recommended, just for it's file size, (You don't want to have to burn shit twice incase your first attempt was not on a big enough CD/DVD, will be annoying.)
Download ImgBurn : http://www.imgburn.com/
For this procedure I personally recomend ImgBurn, this is completely free software that will allow you to burn and modify ISO files and other image type files.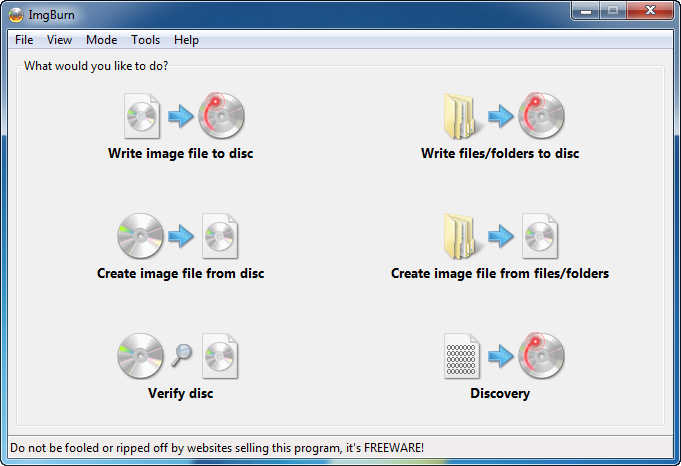 Step 3: After you have downloaded and installed ImgBurn, open it up and click on the very first option you see, which is also in the above screenshot.
Click on "Write image file to disc"
Simply click on the browse button to find and load your ISO into ImgBurn software.
I recommend check marking Verify, as this will scan the disk for any errors after burning your ISO to it. Just for any precautions.
Step 4: You must now shrink your existing Windows partition on your Hard Drive in order to ensure that there is room for your new Kali Linux OS.
To do this, we will use software provided by Microsoft, which will already be on all computers!
This is an incredibly easy step, all you must do is (if on Windows 7)
Just hit the start button, and type Disk Management.
Once in this menu, you will simply click on your main C: drive, that has windows on it.
Right click it, and now select Shrink Volume.
Now for this part, there is no reason to go overboard, and shrink anymore then 50%.
In my example, I dedicated 100GB (shrunk C: drive to make room for 100GB) of memory for my Kali. This will ensure I have enough room to install it, and also ensure I will have room for updates, new software, new packages, etc.
Step 5: After your DVD/USB device has been burnt successfully and verified to your system's driver, you can now proceed with getting ready for the installation of Kaliitself.
If you are using a DVD to install this Kali Dual Boot, you must now configure your system BIOS to either attempt to boot an Operating System from your DVD drive, or from your USB Drive.
This step is different for every computer manufacturer, and if you cannot discover how to get into your BIOS menu, you really should not be trying to install Kali on your system.
Get into your BIOS and set either your DVD/USB device as boot order #1.
EXAMPLE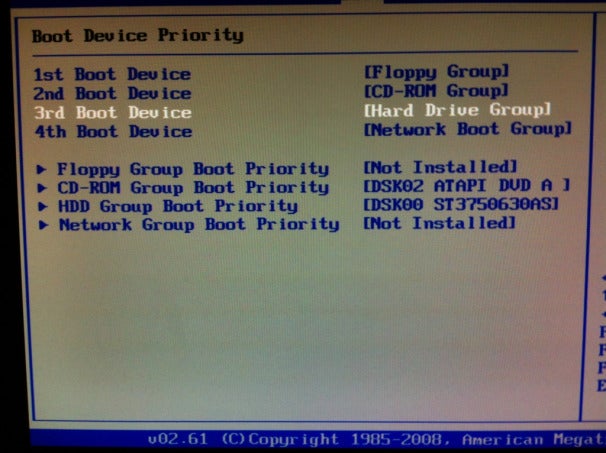 EXAMPLE
More information on your BIOS and boot order can be found here: http://pcsupport.about.com/od/fixtheprob…change.htm
Step 6: Now that you have set your BIOS to boot from either your DVD or your USB device, assuming that you correctly burnt the ISO file onto your hardware, simply pop in your device and shut down your computer.
When you turn on your computer,you will be prompted with a Kali install page.
Here, you are highly recomended to pick the "Graphical Installation" option.
As you can see in my example, everything is going off perfectly. All drivers and files are loaded from my ISO booting device.

The rest of this stage is purely up to you, you are able to name your new Kali host, you are able to assign your network card (if you are planning on using Kali to crack/hack of any sort, enable your card or else you will have no internet connection. )
Step 7: Enjoy. You're all done.
If you have any questions about Dual Booting, or about Windows or Kali, please post them here.
I am only just learning how to use Linux myself ( in all my years of being around computers, I've never used a Mac before or a Linux, so this is a first for me. )
Hope this helps a lot of people get into Linux, like me.